Dave Stewart & Barbara Gaskin
About Us
Dave Stewart (keyboards) and Barbara Gaskin (vocals) are English musicians who began their respective careers as band members in the early '70s. The duo enjoyed immediate success with their 1981 debut single 'It's My Party', a worldwide hit which reached number one in the UK and Germany. Dave & Barbara continue to work together, releasing their music on their own independent Broken Records label and occasionally performing live as a trio or quartet.

This site focuses on the work of Stewart / Gaskin, which can best be described as intelligent pop music. For more information, please see our info page links below. To buy Dave & Barbara's music, please visit our Online Store, operated by our musician colleagues Burning Shed.
(L-R: Andy Reynolds, Barbara Gaskin, Dave Stewart.)

News January 2016




Competition Results


We're pleased to announce the results of our 2015 Christmas Competition. Despite the cryptic clues, many contestants were able to identify the Stewart / Gaskin song which incorporates a large mixed-voice choir from the country sometimes referred to as Cambria (Wales), the ecclesiastical keyboard instrument of which Stravinsky said "the monster never breathes" (pipe organ), and a brain-twisting 'rhythmic illusion' (a 12/8 pattern played over a 4/4 beat) courtesy of drummer Gavin Harrison: the correct answer is 'New Jerusalem', the epic closing track of Dave & Barbara's album The Big Idea.

A massive hat was required to house all the winning entries, and stringent security precautions were undertaken to prevent members of the FIFA Executive Committee from bribing the judging panel. The first name out of the hat was Carol MacDonald, who wins personalised signed copies of two CDs from our Burning Shed catalogue. Congratulations to Carol, and thanks to everyone who participated!



The organ of St. George's Hanover Square, featured in 'New Jerusalem'.
CDs, Rarities & Deconstructions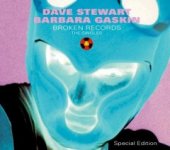 Signed copies of the Stewart / Gaskin EP Hour Moon are now available. As well as a berserk version of the Johnny Kidd rock'n'roll classic 'Shakin' All Over', this five-track EP (originally released in 2009) features the haunting ballad 'This Wind Blows Everywhere' and the much-requested Keyboard magazine extended Flexidisc mix of 'Henry & James'.

The complete Stewart / Gaskin catalogue, including 12" mixes, alternative versions and bonus tracks, is now available in remastered CD format from our online store. We also have signed copies of some of our original Broken Records 1980s 7" vinyl singles, mint, unplayed and still in their original picture sleeves, including our version of Thomas Dolby's 'Leipzig' (featuring a sleeve design by Peter Blegvad) and the picturedisc of the ever-popular 'Busy Doing Nothing'. Dave's Inside The Music series deconstructs 14 Stewart / Gaskin songs with audio clips, notation, photos, playing tips and detailed notes by the composer. Formerly published online as separate articles, the complete series is now available as two downloadable volumes.



Newsletters


Feel free to join us on our Facebook band page, which also carries our news postings. However, since not all Facebook posts reach their intended recipients, we recommend that the most reliable way of staying informed is to subscribe to our email newsletter service. To subscribe, simply click here and add your email address to our mailing list (operated by Burning Shed). We will not share this secure information, you will not be spammed and you can unsubscribe any time after receiving the first newsletter. If you already added your name, be sure to notify us of any change of email address. Thank you!


Info Pages
Online Store
CD Releases
Inside The Music Online
Live Concerts

A brief history of Broken Records
The Vinyl Archive
Discography
Barbara Gaskin bio
Dave Stewart bio

Music books
The Eric McWhirter Home Page
Visitors Book
FAQ & links


Available to buy
Green and Blue

Hour Moon EP

The TLG Collection

Spin

The Big Idea

As Far As Dreams Can Go

Broken Records - The Singles

7" Vinyl Singles

Inside The Music Vols. 1 & 2


Return to top
All text, images and audio files on this website copyright of Broken Records, UK.
Live photos of Stewart / Gaskin band, Tokyo 2009 copyright Harumi Maezawa.
Please do not reprint, upload or share without permission. Thank you!